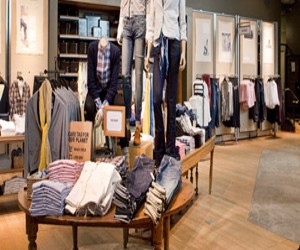 : Most of us would have worn a pair of Levi's jeans in our lifetime. The jeans and garments made by the iconic denim company Levi Strauss are sold almost across the entire world.
The denim major last year made an epochal announcement: it was launching a pair of jeans which had a water footprint substantially lower than before.
With the announcement in November 2010, Levi Strauss joined a growing list of companies, from sectors as diverse as consumer durables to food to pharmaceutical to manufacturing, that have taken it upon themselves to recude the water consumed while making their products.
A look at how Levi's is bringing down its overall water footprint.
'WaterLess'
Levi's has launched a new line of jeans that are designed to substantially reduce the water needed to produce each pair of pants.
The company said its new line 'WaterLess' jeans has an average water footprint that is 28 per cent smaller than most brands. Also, it is as much as 96 per cent smaller in some other jeans products.
The company said it was able to bring down its water footprint by making simple changes to the jeans finishing process.
The company said during the production process, a typical pair of jeans are "finished" inlarge washing machines and dryers to create a unique look and feel. Using traditional garment washing methods, the average pair of jeans undergoes 3-10 washing cycles – adding up to approximately 42 litres of water per unit.
Levi's WaterLess jeans have reduced the water consumption in the finishing process by making these simple changes to the process.
- Reducing the number of washing machine cycles by combining multiple wet cycle processes into a single wet process
- Incorporate ozone processing into the garment washing
- Removing the water from the stone wash
Levi Strauss indicated that the first collection of 'Waterless' jeans will be available in January 2011 while the company plans to introduce the manufacturing process to factories around the world by Autumn 2011.
The company said the Levi's spring 2011 product lines will contain more than 1.5 million pairs of jeans with the WaterLess method, saving approximately 16 million litres of water.
The line will also include jeans made with brand's traditional rigid finish which, by its nature, utilizes virtually no water in its production.
What's different?
Said Levi's Director of Brand Concepts and Special Projects Carl Chiara: "What's different about the WaterLess collection is that we're still using the same materials and techniques to create finishes for our jeans but we've substantially reduced water's role in the equation. Sometimes, the way to achieve a more sustainable design is to rethink a traditional process and find a way to do it better".
Going ahead
The Levi's brand will continue to introduce these finishing techniques to even more supplier factories around the world with the goal of increasing the numbers significantly in Fall 2011.
The company has undertaken several other water-saving measures in the recent past. In 2009, it launched a Levi's care tag that included water- and energy-saving advice, and the development of an Eco Index to measure the environmental and resource impacts of outdoor products.
Along with the new product launch, Levi Strauss is also sponsoring a conservation campaign that will encourage its customers to reduce the water used in the care of the jeans.
An advertisement for the campaign reminds each customer that by simply washing their pants every two weeks (instead of once a week) they will be able to collectively save over 80 million liter of water. That's the equivalent of 2,682,119 five-minute showers, 13.4 million toilet flushes, or 84,787 years of drinking water for one person.
Said Erik Joule, Senior Vice President of Merchandising and Design of the Levi's brand: "We challenged ourselves to operate at the intersection of style and sustainability. These Water

Water sustainability

The 'Water

The company has:

- Established global effluent requirements

- Signed the CEO Water Mandate

- Made efforts to reduce water footprint

The comapny's statement on water footprint reads:

"Our business relies on abundant sources of water, whether it is in cotton growing, manufacturing or providing potable water for workers wherever we operate".

• Direct operations. The water usage associated with our direct operations is a small piece of our overall water footprint (only about 1% of the water is linked to manufacturing the product). But addressing water usage, quality and availability within our direct operations not only reduces our overall environmental footprint, it also makes good business sense to operate as efficiency and cost effectively as possible. We are committed to measuring and reporting our water footprint on an ongoing basis.

• Measurement. Since 2008, we have been tracking water usage throughout our owned and operated facilities. With that data, we are able to compare within and across regions and facility types and develop targets for water reduction at each facility.

• Tracking supplier usage. In 2009, we began to collect water use data directly from our suppliers, as well as our own operations. Facilitating this data collection effort is our new Social and Environmental Sustainability Information Management System (SESIMS), which allows us to monitor detailed environmental performance at the supplier level.

• Water use in the supply chain. More than 50% of the water associated with our products stems from activities in our supply chain – from cotton production to retail sales. Currently, the supply chain is the primary focus of our water stewardship activities. For example, through the Better Cotton Initiative, we are aiming to help reduce water and pesticide consumption in the cotton industry.

(Image source: Levistrauss.com)