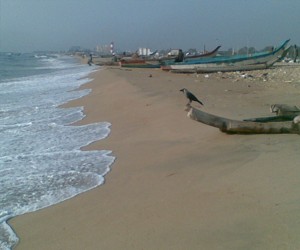 Tamil Nadu : A lack of access to safe, clean water may not be the most obvious problem for those living along India's extensive and beautiful coastline. Yet it is becoming increasingly apparent that most regions of India's 13 coastal states are facing serious difficulties when it comes to providing an adequate domestic water supply to the rural and urban population.
WaterAid recently supported other partner organisations, including the World Health Organisation, Planning Commission and Water and Sanitation Management Organisation, to discuss this crisis at a national seminar held in Ahmedabad, India.
The roots of the crisis are linked to development. Sustainable development has proved challenging for many coastal states, as they struggle to balance their delicate ecology against heavy economic demands and the desire for growth. While coastal ecosystems can promote biodiversity and protect against saline winds, cyclones and tsunamis, they also provide many raw materials for manufacturing activities. Ship building, oil refineries, agriculture, tourism and fisheries are all likely to put great pressure on coastal ecosystems - and lead to salinity in the groundwater, depletion and degradation of natural resources, pollution - and a lack of safe potable water.
In Thirunagari, Tamil Nadu, a cyclone caused many villages to flood and seawater to contaminate the water supply. Intensive prawn cultivation in the area has also negatively impacted the groundwater; salt water pumped into ponds for rearing prawns devastates the land which then cannot be reclaimed for agriculture by local people when the prawn farmers move on.
"This water tastes salty and it is bad smelling," says S Katragan, a 20 year old fisherman. He explains, "It is salty because of the prawn culture and because of the floods. There is a big demand for water but we don't get enough. The rain water percolates down and the further down it goes the saltier it gets. We scoop off the top of the water only."
With over one quarter of India's population concentrated in the coastal areas of the country, it is imperative that long-term, sustainable solutions to the problem are established by communities and governments alike, as without intervention, the situation will escalate.
Housewife Vairakannu Kuilamma, has a 12 foot direct pump in her back garden. "For 11 years we had good water. Now this water is brackish and salty. There is no real safe water in this village."
The seminar explored the feasibility of technological alternatives to the problem of salinity in the groundwater - for example, rainwater harvesting, desalination and dew harvesting - and looked towards establishing an area-specific strategy for ensuring access to a domestic water supply in coastal regions. Barriers made from natural materials will be constructed to protect coastlines from strong winds and cyclones. It will be important to regulate economic activities and plan land use in a sustainable way. One of the sessions also included a presentation on WaterAid's management of the drinking water crisis after the tsunami in 2004.
Throughout 2008, WaterAid will continue to work in India's coastal regions to promote low-cost, sustainable approaches to accessing safe domestic and drinking water, enabling the country's poorest people to gain access to the most important resource of all.