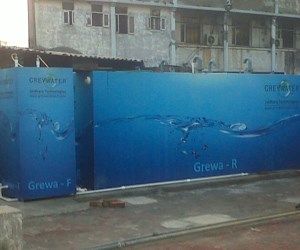 Mumbai : Mumbai-based specialised wastewater treatment technology company Greywater has said it has installed a 100 KLD GREWA-R based sewage treatment plant (STP) at a gems factory in Surat, Gujarat that has been awarded IGBC's LEED India Gold certificate.
Shairu Gems Diamonds Pvt Ltd (SGDPL) in Surat is amongst the first facility of its kind in the world to be awarded the Certificate.
Greywater said the SGDPL facility is equipped with its next generation GREWA-R STP that treats and recycles 100,000 L of wastewater per day.
"The treated water is used for HVAC makeup, landscaping and common area cleaning. We feel extremely proud to be associated with such a socially responsible and progressive client and it gives us immense satisfaction to have enabled Shairu Gems in their efforts to be environment friendly", said Greywater Director Arun Dubey.
"GREYWATER's STP plant has been running over a year now at our facility in Surat. The treated water from the plant is used for various non-potable applications within the compound. The GREWA-R STP is an integral part of our energy efficient and environmentally sustainable design. The recently awarded LEED certification is a proof of GREYWATER's and Shairu Gem's efforts to conserve our environment", SGDPL Technical Head Atul Mehta said.
An official statement said Greywater is the only company in India to provide truly packaged and next generation STP products.
In last three years the company has enabled several prestigious clients such as Leighton Welspun, Mahalaxmi Developers, Dell, Unitech and others to make their projects water sustainable.
GREWA-R comes in with a unique nutrient removal feature which not only helps in effectively processing nutrient rich wastewater from commercial complex's such as Shairu Gem's factory but also elongate the storage life of recycled water.
Funded by Nexus Venture Partners, Greywater's compact plug-n-play products are being used in hospitality, commercial, hospitals, SEZ, IT parks, residential and industrial sectors, the statement added.