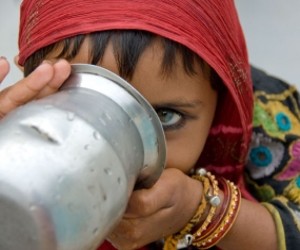 (Image source: www.psgs.usf.edu)
New Delhi : Access to safe, clean drinking water has remained a dream for almost 1 billion people around the world, most of them in the developing and underdeveloped countries across Asia, Africa and Latin America.
Several decades of technological advances have managed to bring safe drinking water to millions, who would otherwise have perished to the perils of contaminated drinking water. But, at a cost.
However, for those who cannot afford even these costs, all such efforts are clearly not enough. And, certainly not fast enough as each year, thousands of people across the world are added to the list of those who remain devoid of clear drinking water. reportedly, 3.5 million people die each year from water-related diseases.
What's needed is technology that is cheap, as most of those without access to drinking water are poor, as well as technology that is easy to use.
The University of South Florida's Patel School of Global Sustainability has launched a global challenge in developing countries to come up with one such device that fits the bill.
Called the Patel Grand Challenge, after noted global philanthropist Kiran C Patel, the competition is for creating a low-cost and easy-to-use water purification device.
The challenge was launched in November 2011 through the University's Center for Global Solutions with the support of the International Water Association (IWA) in Malaysia.
So, what exactly is the Patel Grand Challenge?
The challange is an invitation to designers, researchers, inventors, innovators and entrepreneurs from the developing world to create a Smart Pot that: treats contaminated water during collection, is affordable, robust and user friendly, has a similar shape and weight as a traditional pot (jerrycan), can be manufactured locally, and requires minimal running and maintenance cost.
For more details and to apply for the challenge now, click here
News reports indicate that millions of people across the developing countries collect their drinking water from contaminated water sources using water pots and Jerrycans.
The Patel Grand Challenge seeks the invention of a technologically-advanced yet inexpensive "Smart Pot" that would automatically disinfect water at the point it is collected.
The aim is to benefit that one in eight people who reportedly do not have access to safe drinking water across the world. Also, to help counter the more than half the diseases that are caused worldwide by dirty water.
A child is estimated to die every 15 seconds – some 1.5 million children each year – from waterborne illnesses such as cholera, typhoid and diarrhea.
Patel was quoted as saying in news reports, "Those who live in developing countries know the problem; they see it and live with it each day. I'm sure that they have thought of ingenious and innovative ways to solve this problem. I'm confident that next year we will have a tried and tested design of the Smart Pot. Let's make the Smart Pot a reality."
The challenge welcomes pre-proposal submissions through April 2, 2012. Five finalists will be awarded up to US $8,000 and invited to prepare full proposals that will be reviewed by an international panel of experts at a major event. The winning research proposal will receive up to US $100,000 to develop the Smart Pot alongside the Patel Center's research team.
The Smart Pot should be technologically-advanced, but durable enough to survive rugged conditions. It's purification system must be integrated into the pot to clean the water at the point it is gathered and it must be cheap to mass produce so that its good effects could be distributed worldwide.
The goal of the competition is to advance the development of water filtration technology by turning directly to the people most at risk from unclean water: those in developing countries of Africa, Asia and Latin America.
USF School of Global Sustainability Director Kala Vairavamoorthy believes that people who live with the challenge each day can devise technology that could be so completely integrated into the familiar vessels used for gathering water that the solution would in the end be uncomplicated and easily integrated into daily life.