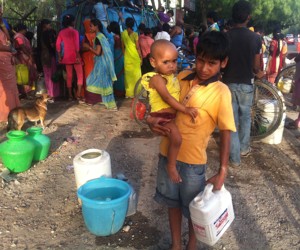 A child in a Delhi slum waits to fill up water from a tanker. Lakhs of children across India are at risk of contracting water-borne diseases. (India Water Review file photo)
New Delhi : India has the dubious distinction of being herded with African countries Nigeria, Democratic Republic of the Congo and Ethiopia, and its neighbour Pakistan in a list of five mostly poor and populous countries that witness about half the world's deaths by two deadly diseases - pneumonia and diarrhoea.
And, with 6,09,000 deaths, India tops the list of 75 countries with the highest mortality burden attributed to the two diseases, a new Unicef report has indicated.
In India, six lakh kids aged below five years die every year because of the two preventable diseases.
Worldwide, pneumonia and diarrhoea claimed about 2,197,000 children under five years of age in 2010, making up 29 per cent of all child deaths under age five.
The statistics are certainly alarming. Particularly, for a country like India, which till very recently, was counted among the world's best performing economies
. India's economic growth rate was something that the entire world noticed and it was often predicted that India would emerge among the world's three largest economies in the next 20 years.
But, the growth story ends just there. In terms of access to safe drinking water and sanitation facilities, India still remains among the poorest of the poor.
Unsafe water supply, inadequate sanitation and hygiene are largely responsible for death of many of the the six lakh children every year, as about 90 per cent of diarrhoeal disease is attributed to the three factors.
According to World Health Organization (WHO), improved water supply reduces diarrhoea morbidity by 21 per cent, improved sanitation reduces diarrhoea morbidity by 37.5 per cent and additional improvement of drinking-water quality, such as point of use disinfection, would lead to a reduction of diarrhoea episodes of 45 per cent.
Water and sanitation remains a key hurdle, with 783 million people globally not using an improved drinking water source, and 2.5 billion not using sanitation facilities.
The new UNICEF report -- Pneumonia and diarrhoea: Tackling the deadliest diseases for the world's poorest children -- has identified a tremendous opportunity to narrow the child survival gap both among and within countries by increasing commitment, attention and funding.
Said Unicef Executive Director Anthony Lake, "We know what works against pneumonia and diarrhoea – the two illnesses that hit the poorest hardest. Scaling up simple interventions could overcome two of the biggest obstacles to increasing child survival, help give every child a fair chance to grow and thrive."
Pneumonia and diarrhoea account for nearly one-third of the deaths among children under five globally – or more than 2 million lives each year. Nearly 90 per cent of deaths from pneumonia and diarrhoea occur in sub-Saharan Africa and South Asia.
The prevention and treatments for both diseases often overlap, and include such basic steps as: increasing vaccine coverage; encouraging breastfeeding and hand-washing with soap; expanding access to safe drinking water and sanitation; and disseminating oral rehydration salts to children with diarrhoea and antibiotics to children with bacterial pneumonia.
The potential for saving children's lives is huge if proven, cost-effective interventions for pneumonia and diarrhoea can be scaled up to reach the most disadvantaged children.
The report says that more than 2 million children's lives could be saved in the 75 countries with the highest mortality burden if each country's entire population of children under five years of age received the coverage already achieved by the wealthiest 20 per cent in those countries.
(Waterborne diseases are caused by pathogenic microorganisms that most commonly are transmitted in contaminated fresh water. Infection commonly results during bathing, washing, drinking, in the preparation of food, or the consumption of infected food. Various forms of waterborne diarrheal disease probably are the most prominent examples, and affect mainly children in developing countries.)