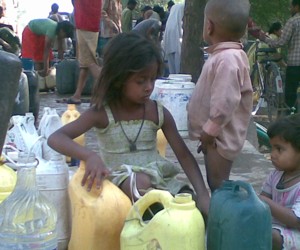 Children wait to fill up water at a tanker in an Indian metro. (India Water Review file photo)
New Delhi : Global corporate watchdog Corporate Accountability International has come down hard on the World Bank for its water privatisation efforts, saying the Bank's promotion of privatization is both financially unsound and bad for development.
A report released by the group recently documents the failures of World Bank's water privatization efforts and states that over one-third of private water contracts marketwide entered between 2000 and 2010 have failed or are in distress.
Titled 'Shutting the Spigot on Private Water: The case for the World Bank to divest details', the report was released by CIC at the Bank's Spring Meetings and states that for each dollar directly invested in its projects, the World Bank's private sector arm leverages an additional $14-18 from capital markets.
"Unfortunately, this often means empowering private water corporations in their global market grab".
Also, 34 per cent of all private water contracts marketwide entered between 2000 and 2010 have failed or are in distress – four times the failure rates of comparable infrastructure projects in the electric and transportation sectors.
The conflicts of interest that help keep the World Bank in the business of promoting privatization despite its failings. Equity investments in private water corporations pose a conflict of interest with other World Bank functions, including advisory activities, the report said.
Corporate Accountability International executive director Kelle Louaillier said, "In the midst of a world water crisis, the World Bank is squandering resources needed to save millions of lives. Its charter is to aid those in the greatest need, but its financial stake in private water corporations is creating perverse incentives which undermine the bank's own mission."
Initially the World Bank sponsored private ownership of water utilities, but after 20 years of prominent failures, the Bank has been forced to admit that private corporations have little to no incentive to own or invest in water infrastructure.
The World Bank then shifted course, endorsing private management of water utilities, which has resulted in widespread rate hikes, layoffs of public employees and a failure to serve the poor.
Despite this track record of failure, the World Bank is counterintuitively ramping up its investments in water privatization. After spending a total of $1.4 billion in private water corporations since 1993, the Bank's private-sector arm is aiming to increase investments to $1 billion each year beginning in 2013.
Recent developments in Europe are similarly calling into question the prudence of the World Bank's water financing. In Paris, a long-time bastion of private water, a 2010 remunicipalization saved the city $46 million in just the first year of operation.
In Italy, 95 per cent of voters rejected privatization of the country's water in a 2011 referendum. As the report details, privatization's deep unpopularity and the benefits of public control and management also apply to low- and middle-income countries globally.
What's more, the share value of the world's largest water corporation, Veolia, dropped by half in 2011. This development should give the World Bank reservations about its $164 million of equity investments in Veolia's subsidiaries. It also casts a spotlight on the broader financial risks associated with funding development by investing in private water.
"It's time the World Bank stops chasing bad money with more bad money," said Louaillier. "With a change at the top comes an opportunity for the World Bank to change course as it has before."
The World Bank continues to push privatized and commercially driven management on governments, but is increasingly bypassing democratic processes to directly support the private sector's market grab.
The persistence of this approach is related to the World Bank's coziness with industry. One example is the World Bank-funded and industry-driven Water Resources Group 2030, an initiative launched in recent months to sell countries on privatizing public water systems and supplies.
Corporate Accountability International and its partners have urged for appointment of a Word Bank President who will bring the its development mission back into focus, but also the following:
- Stop all support – financial and otherwise – for water privatization beginning by divesting from all equity positions in water corporations (in keeping with the World Bank's original charter).
- Revitalize World Bank funding for public water agencies to expand infrastructure and access.
- Stop promoting water privatization through research, public relations, advocacy and direct advisory services aimed at marketing privatization to borrower governments and populations.
- There is powerful precedent for such reform. Over the last two decades, the World Bank has divested from tobacco and adopted labor standards for all projects it funds directly.