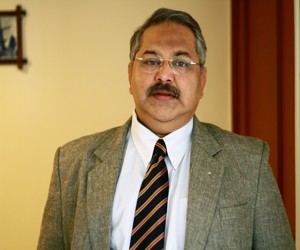 Mumbai : Mumbai-based wastewater treatment and recycling equipment company Jaldhara Technologies Pvt Ltd was recently in the news after the company announced it was scouting for an acquisition and had managed to raise Rs 9 crore in venture capital funding.
The company, a rather new entrant in the water and wastewater industry, has plans to offer complete solutions from the beginning to the end of the consumer water cycle. Jaldhara Technologies Director and CEO Harshad Bastikar talks to India Water Review about the company and its future growth plans.
What is the product mix of Jaldhara Technologies? Which industries are the products used in?
Jaldhara Technologies has developed innovative application technologies to meet the growing demand for point-of-discharge and decentralized water/ wastewater treatment solutions in packaged and productised form.
Our packaged plants are completely 'plug and play', have the smallest footprint space, completely modular, flexible and scalable, and meet with the strictest of norms for discharge parameters.
We have aligned all our products to Jaldhara's philosophy of 'conserve, recycle & reuse' through a 'no-waste' aplication of our innovative application technology.
Our products are ideal for residential buildings, hotels, hospitals (non-‐medical waste), shopping malls, commercial complexes, IT parks, SEZs, decentralized small-scale municipal applications and industries.
What is the level of engagement that Jaldhara Technologies has with its parent company Greywater Technology?
Jaldhara Technologies is a wholly-owned subsidiary of Greywater Technologies, Mauritius. In India, it operates under the brand name 'Greywater' and offers its 'Grewa' range of products.
You have been looking at an acquisition to further expand your business in India. How close are you to it?
The company plans to grow in the engineering, procurement and construction (EPC) segment. This growth could come in through an acquisition and it would be part of our expansion plan to enable prequalifications in the larger municipal and industrial application sectors.
We are looking for a company that will provide us access to the EPC segment as well as provide us with technology.
What is the size of the proposed investment for the acquisition?
We are looking at an acquisition in the range of $10-50 million. It could be anywhere in India. The company would fund the buy-out from its internal accruals as well as from external finance.
You have already managed to raise Rs 9 crore (over $2 million) in venture capital funding from Mumbai-based venture capital firm Nexus Venture Partners. Is it to part-finance the company's acquisitons plans, or what?
We intend to use the initial round of funding for product and technology application development. It will also be used for stepping-up operation infrastructure and 'Go-to-market' requirements.
The water and wastewater sector in India has witnessed tremendous growth in the past few years. How is this segment poised for future growth?
Going ahead, technologies that are focused on wastewater recycling and reuse with optimum cost and high productive efficiency will experience a surge. Even as biological-based treatment solutions and technologies will continue to dominate, separation methodologies too will gain faster acceptance.
Given the investment scenario and the current level of technological development soon, there will be the introduction of low-cost high-treatment efficiency solutions being introduced.
In the water and wastewater sectors, our main area of expertise is low-cost, high-efficiency, fully automated, and remotely monitored treatment solutions. We hope to remain a dominant player in the area.
Which are the new areas the company is keen to enter in India? What efforts are being made on this front? Are you considering a tie-up with a foreign partner on the R&D front?
We had launched our product range very recently and have now started full-fledged operations. The initial market response has been very encouraging.
We are receiving several enquiries and our order book looks quite healthy. We will be continously working on improving our the treatment efficiencies of our products and innovating on our applications.
By the year-end, we plan to scale-up or increase the scope of our application technology to treat more difficult-to-degrade kind of applications, in different sectors and segments.
So far, all our technology development and production is completely indigenous. We may consider tie-ups with foreign companies for further research and development on treatability solutions.
How is the future panning out as far as wastwater technology is concerned?
Urbanisation and growing demand for water use will see the maximum growth in the years ahead. This would mean a substantial growth area for designers and builders of new centralised municipal plants and retrofitters of existing plants for enhancing capacities.
Along with this, there will also be a large growth in the Tier 2 & 3 cities where urbanisation is happening at very high speed. This is expected to raise the demand for smaller capacity, decentralised and recycle ready compact treatment plants, located closer to the point of discharge.
India's provision of infrastructure and resource delivery mechanisms needs to match the pace of urbanisation. The pressing need to address wastewater management in a more efficient and sustainable way will remain one of the key elements. Without any urgent action to better manage wastewater, the situation is likely to get worse. Wastewater management, therefore, must address not only the urban but also the rural context through a sound and integrated ecosystem based management.
The cost of compliance with the ever increasing regulatory requirements will also be a driving force in this segment.
From the industry side, the main driving forces would be stricter and more stringent effluent quality standards; requirements for lower or nil sludge production; localised treatment incentives and/or subsidies; reduced plant complexity and less dependancy on manual operability and newer treatment concepts like more compact and packaged plants.