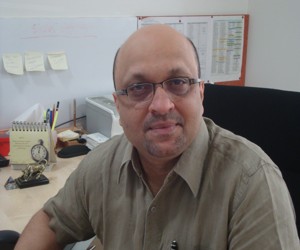 New Delhi : Pune-based Aquatech Systems Asia Pvt Ltd, the Indian subsidiary of water purification technology major Aquatech of the US, has bagged two major orders in past few months. In late April, it bagged a multi-crore order to set up a desalination plant for Coastal Energen Pvt Ltd (CEPL) in Tamil Nadu.
A month earlier, it was awarded a complete turnkey EPC contract for a 10,000 cubic metre per day waste and sewage treatment and recycle project for the Chhatrapati Shivaji International Airport at Mumbai.
Aquatech Systems Asia Vice President Sachin M Kukade speaks to India Water Review on the company's focus on the power sector and its growth plans.
What is the current product portfolio of the company? Which industries do these products find usage in? Is the company thinking of expanding its products offering in India?
Aquatech provides solutions for water and wastewater treatment i.e. from soup to nuts. We have a very comprehensive range of technologies right from pretreatment to the wastewater treatment/wastewater recycle to zero liquid discharge. We are one of the very few companies in the world with a very long experience and can offer both types of desalination solutions i.e thermal as well as membrane-based.
Some of the key application areas for these water and wastewater treatment solutions are:
• Biological waste treatment.
• Recycle and Reuse
• Industrial recycle
• Sewage recycle
• Desalination
• Thermal desalination
• Membrane desalination
• Wastewater treatment
• Zero liquid discharge
Our products find application mainly in following key markets : Oil & gas, refineries; Hydrocarbon processing industries & chemical industries; Power; Chemical processing industries; Municipal and infrastructure; Semiconductor industry; and Parmaceuticals.
The company is expanding its portfolio to achieve objective of complete water management under one roof ranging from industrial solutions (high techprocess engineering, equipment supply focus); products and services (WATERTRAK standard products, water management, services, spare parts, AMC); Municipal and infrastructure (desalination, water reuse projects, major industrial EPC projects); QUA advanced membrane technology; and operating services (Industrial DBOOM, contract operations, Infrastructure DBOOM)
The company has been awarded several projects in the past few months, ranging from desalination to water and wastewater treatment. What is the company's current orderbook size?
Current order booking for Aquatech Systems (Asia) Pvt Ltd (including its subsidiary Aaquatech Eastern) is over Rs 500 crore. This is attributable to winning some prestigious projects in desalination and wastewater recycle & reuse segments
Some of them are,
• 15 MIGD (68,200 m3/d) SWRO desalination plant to Federal Electricity and Water Agency (FEWA)
• 10 MLD sewage treatment followed by recycle & reuse at Mumbai International Airport Ltd, Mumbai
• 13 MLD turnkey seawater reverse osmosis project at Coastal Energen Private Ltd, Tuticorin, Tamil Nadu.
How is Aquatech India planning to focus on the municipal market, which is showing significant potential for growth? Does the company see future growth from the private sector or from the government side?
Municipal water treatment is one of the fast growing segments in the Indian Water treatment market. To cater to this market, which mainly involves biological treatment for sewage, Aquatech signed an exclusive collaboration agreement with AECOM's Design-build business (UK). Aquatech is already engaged in doing the Mumbai International Airport Ltd Project based on this differentiated technology.
Following extensive screening of the market for the most efficient and competitive Sequence Batch Reactor (SBR) Technology, Aquatech identified that AECOM's Cyclic Activated Sludge System (CASS) satisfies the need of the market.
As the projected growth both in private as well as the municipal segment, which is mainly government controlled, is quite robust, Aquatech finds vast scope for AECOM's CASS system in both private as well as Government sector.
Some of the recent orders for the company have come in from the power sector. Is the company particularly focused on this sector, or is also targeting other industrial sectors in India?
In the mid-ninties, Aquatech was proudly associated with most of the IPPs (independent power producers) for setting up the water & wastewater treatment facilities in various parts of the country.
Now, with more focus from the government in promoting the power sector and with the emergence of ultra-mega power plants (UMPPs), healthy growth is again seen in this sector. The sector is expected to grow exponentially in years ahead due to the need of meeting the country's huge energy deficit.
Aquatech is extremely involved in providing water/wastewater treatment and desalination solutions to both UMPPs and the large power projects as seen from their recent successes. For Aquatech, which hasexpertise and a very successful track record in recycle & reuse/zero liquid discharge (ZLD) and desalination applications, power is and will remain one of the key markets in coming years.
Apart from the power sector, Aquatech has been extremely focused on oil & gas, hydrocarbon processing industries (HPI) and chemical processing industries (CPI). The company has really gained leadership in the past decade or so in terms of tackling some of the huge treatment challenges consistently for HPI/CPI clients like, Reliance Industries Ltd, HPCL, HMEL, Sanmar Group, Indorama group, Dow Group etc.
While executing a typical EPC project on a turn-key basis, what all does the company provide? Are more projects on a EPC basis being pursued by the company?
Aquatech has complete EPC project handling capability on turnkey basis as demonstrated by several EPC-based large projects successfully done in the region. The typical engineering, procurement and construction mandate includes complete scope from design & engineering, lumpsum turnkey (LSTK) supply including the complete civil works, HT/LT electrical scope, till operation and maintenance.
Some of the best examples of recent EPC projects we have been doing are CGPL Desal, CEPL Desal, MIAL wastewater recycle/reuse project etc.
Currently Aquatech is bidding for some of the prominent desalination, recycle-reuse as well as turnkey water treatment projects which are in the finalization stage. Apart from these there are significant lists of sizeable projects in pipeline.
Is Aquatech India looking at the BOOT space in India?
Aquatech is a pioneer in providing waterwaste treatment solutions on BOOT basis in India. Aquatech has provided two very prestigious HERO-based recycle and reuse plants to the world's largest grass root refinery i.e. Reliance, which are running successfully for over last five years.
Aquatech has also done some of the large BOOT projects overseas including Saudi Arabia for prestigious customers like Aramco and KAIA. We would be very keen to continue our success story of BOOT projects in India.
We are currently observing a gradual change in India with respect to the BOOT models becoming more popular and Aquatech surely wants to occupy that space in the coming years.
What is the company's topline for 2011? What kind of turnover is seen in 2012 and 2013?
Aquatech is projecting robust growth in the topline for coming years especially with the large EPC projects in hand such as FEWA. In India, our CAGR has been over 40 per cent.
As a strategic initiative, Aquatech is planning to increase its corporate revenues significantly further and we are committed to its current revenue by end of year 2012-13.
Is future growth expected to come in from organic route only, or is the company looking at inorganic growth too?
With continuously changing market dynamics and changing procurement patterns observed over a decade, we are projecting hybrid growth which will be a blend of organic as well as inorganic components.
Aquatech is geared up to cater to these challenges with its vast experience and expertise in water treatment.
Irrespective of all the challenges in today's competitive environment, Aquatech is committed to support clients with cutting edge sustainable solutions, optimizing their life cycle cost, as well as their carbon and water footprint.