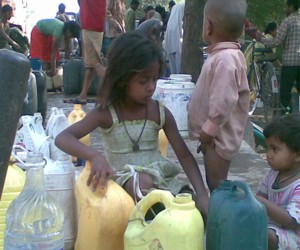 Bhubaneswar (Orissa) : Before 12 year old Sanjukta can go to school she gets up at 4am to collect water for her family, lights the fire and sweeps the house.
Her mum would rather she went out to work on the building sites in Bhubaneswar and brought some money home, but Sanjukta is adamant: "If I get a good education I can become a teacher and get a good salary. Then my mum might understand how important education is."
Sanjukta's story is not uncommon in modern day India with its vast divides between rich and poor. She lives in a slum and her family has limited funds. But the big difference for Sanjukta is that she has high hopes for her future thanks to the work of Inderjit Khurana and her organisation Ruchika.
Twenty one years ago Inderjit began reaching out to Bhubaneswar's children. She was a teacher and believed all children have a right to an education. But in her city thousands weren't able to go to school, as she saw for herself every morning at the local train station where children as young as five were begging, collecting bottles for recycling or shining shoes.
When she asked why they didn't go to school the children's answer was simple - we need to earn money to buy food and so have to stay here and work. And so Inderjit decided that if they couldn't come to school she would she would take the school to them and set up class on the platform.
Years on, she has 12 schools on train platforms, six nurseries, 75 schools in slums, 20 nursery schools as well as helplines, scholarships and even mobile schools on wheels to reach street children. In partnership with WaterAid she has also set up safe water and sanitation projects in slums.
Now she has been awarded for her work, receiving the 2007 World's Children's Prize for the rights of the child - more commonly known as the Children's Nobel Prize.
As safe water, sanitation and hygiene are vital for children's health and enable more children to go to school they are all key to Inderjit's work.
Handpumps and rainwater harvesting schemes have been established in the slums where Ruchika works, while child friendly toilets have been built next to the schools with brightly coloured murals and rhymes encouraging children to use them.
As well as helping children to read and write, lessons include good hygiene. One popular way to get the message across is through puppet shows which teach children that they should always wash their hands when they have been to the toilet and before they cook and eat food. While the children laugh at the puppet who vomits and has diarrhoea, the message they get is serious.
Sanjukta is one child who clearly knows the importance of water, sanitation and hygiene. Her community now has a water pump close to the school that her local community helped to construct and she has been elected as the school president - an important role where she gets to debate in the Ruchika schools' parliament.
When asked what she would do if she was a minister in Orissa it is clear what her priorities would be:
. Fix the sewage system
. Build enough toilets and water for everyone
. Make sure children get to go to school and don't have to go to work
. Put fans in the classrooms because it gets so hot in the summer
With Inderjit and Ruchika behind her - anything seems possible.