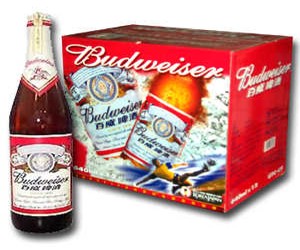 : Belgium-based Anheuser-Busch InBev (AB InBev), the maker and owner of Budweiser, has brought down its global water usage in 2010 by making operational improvements in the process of beer making, apart from a host of other measures.
The company cut down its water usage per volume of beer production by six per cent during 2010. The drinks maker said it brought down global water usage from 4.3 hectoliters (hl) of water per hl of beer production in 2009 to 4.04 hl water/hl production in 2010.
The beer industry is a major user of fresh water and the Belgian company, which also owns the popular Michelob and over 200 other beer brands, is among the likes of South African Breweries to curtail the usage of water in beer making.
For Anheuser-Busch, it has been a constant effort over the past few years to bring down water usage. In 2009, the company had reported a 8.5 per cent drop in water usage.
Since 2007, the company said it has saved enough water to fill more than 16,000 Olympic-sized swimming pools.
Anheuser-Busch has a target to bring down water usage globally to 3.5 hl water per one hl of beer production by 2012. In percentage terms, the company is pursuing an 18.6 per cent reduction in water intensity between 2009 and 2012. The company's achievments in the past couple of years has driven it closer ot its overll goal, though it still needs to break the 4 hectoliters-barrier.
So, how did the company bring down water usage?
The initiatives used by the company to pare water usage over the past year involved engineering and operational improvements at the production end, while an awareness campaign and staff behavioral changes ensured that less water was used.
Some of the company's production facilities were more water-efficient than others, but all contributed towards the overall target of water reduction. The company's Cartersville, Ga., plant broke the 4 hl-barrier and achieved 3.04 hl water/hl production in 2010, making it the most water-efficient brewery in the company.
In Germany, the company's brewery at Wernigerode has also already achieved the 2012 goal. Likewise, the Ningbo brewery in China is on track to achieve the 2012 water usage target.
In fact, the Chinese brewery would achieve the target one year ahead of schedule. The brewery adopted innovative measures like narrowing bottle-washing nozzle diameters and reusing reclaimed water for general cleaning to bring down overall water usage.
The Ningbo brewery had thoroughly integrated utilities planning into the overall production scheduling process.
AB InBev said its other production facilities have found efficiencies by employing "water sheriffs", who look for and fix leakages, and by analyzing the standard process for shutdown and restart of equipment.
The company is not only making steady progress towards being more water-efficient, but its water goal was one of several that it had set out as part of its "Better World" commitment.
AB InBev said it is also making steady progress towards its goal of reducing energy use by 10 per cent between 2009 and 2012, and has already achieved a 3.7 per cent decrease in energy use per hl of production between 2009 and 2010.
(Image source: csr-asia.com)