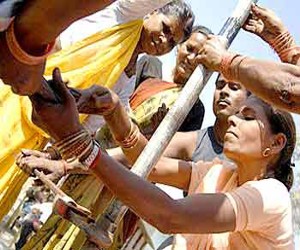 Mahoba (Uttar Pradesh) : WaterAid's projects don't just help people set up their own safe water supplies - we also ensure that the communities can maintain the pumps, wells and pipes and keep the water flowing for themselves and future generations to come.
In the villages near Mahoba (Uttar Pradesh) in India, WaterAid's partner Gramonati Sansthan have trained a group of seven women to become mechanics - each looking after their village pumps, but also joining forces and working together when larger repairs are needed. Dressed elegantly in beautiful saris and colourful bangles they may seem unlikely mechanics - but the moment the tool-kit appears and they get to work repairing a pump, up to their elbows in water, mud and grease, it is clear to see just how capable and committed they are.
Their role is vital, as in the past when the government pumps broke, it could take months for them to be fixed - forcing the women to return to agricultural wells for water or to walk to other villages to find a working pump. Their enthusiasm is infectious as they explain why they wanted to become involved and the changes their work has brought to their villages.
"We women used to face many difficulties with our water," explains Ram Sakhi. "The handpump used to break down and we had to rely on the men to fix it. We had to go to the village head and ask him, but even then they weren't repaired immediately and so we thought let's become independent ourselves, and we learned to repair the pumps so that when they break down we can fix them as quickly as possible."
As women are the main collectors of water and the main carers in the family their involvement often means the difference between a projects' success or failure. But having women in these roles also helps to change people's opinions, as Sheela Singh explains: "Women face big problems with no property rights, no housing and lower literacy rates. After the 8th grade girls aren't encourage to study but the boys are told to carry on. If a woman gets to 20 and isn't married she is sometimes asked to leave the village. There is also dowry debt and harassment. By becoming a mechanic and working in a group we have more control and this helps change people's attitudes."
Uma Devi chips in "We became mechanics because we wanted to break an age-old tradition of this work only being done by men. By becoming mechanics we have broken the tradition and shown that women can also do this kind of work.
Gender equality has improved now, we have the confidence to go anywhere. Before we even feared going outside of our villages but now we have the confidence. Now we will go anywhere. If there are any problems in our village then we discuss it in the self help group and if necessary go and petition in the district magistrates. Here two new handpumps were installed after the women gave a petition to the Government."
Another of the mechanics, Ram Sakhi, explains that the changes are affecting others in their villages too "At first when we entered the villages to repair the pumps the men used to say things like 'Please don't do anything, the handpump is functioning very well. What do you know? You don't even know how to undo a nut and bolt, but you think you can repair this?' It was often like this. Now the men come to us and ask us to repair the handpumps! They pay for the spares and ask us to come and help them."
But the women don't stop at keeping the pumps working - they also tell people about good hygiene and sanitation so that communities can gain more health benefits.
"Now we are aware and so the diseases in our houses are less," Shanti Devi explains. "We pass these hygiene messages on to the other villages. The women there see the changes and because of hygiene practices, diseases like diarrhoea and jaundice have been reduced. The villages are now looking very clean and neat and diseases have reduced, the roads are clean and the villages are starting to construct latrines.
Our children's thinking has also been increased and we want them to study more. We have learned to ride bikes, so in our lives there have been a lot of progress and this has helped our children too. Before we always used to walk around with veils covering our faces and were afraid to be seen but now we are open to the world."
(Picture credit: WaterAid/Marco Betti)