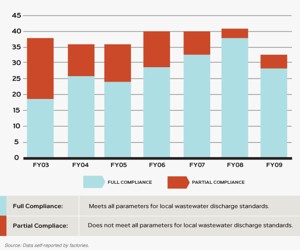 : Rapid population growth, industrialization and economic development are putting unprecedented pressure on the world's freshwater resources. Many of the world's regions are already experiencing dramatic social and environmental impacts from water scarcity and pollution. These realities lead to tough questions for businesses. What will be the cost of fresh water in the future? How will the price and the availability of water, both of which may be volatile, impact supply chains? With this in mind, it is increasingly important for Nike to understand our dependence on water resources in areas where we do business and to take steps to reduce our impact wherever possible.
While the volume of water used by agriculture and consumers is much larger than the volume used for the dyeing and processing of textiles, the water used and discharged by textile mills can have a significant local impact. NIKE, Inc seeks to directly influence the water-use behaviors of suppliers to minimize the impact on local water supplies while developing a holistic long-term strategy that also encompasses water use by agriculture and consumers.
Our approach
Water stewardship is an important part of our North Star. Since FY01, we have continued to grow the Nike Water Program, expanding on our original goal of improving water quality to include improving our water efficiency.
We define good water stewardship as borrowing water responsibly and returning it clean to communities. Borrowing water responsibly means that we aim to have water-intensive production take place where water is abundant and that we push suppliers to use water more efficiently to avoid borrowing more than we need. Returning it clean means that the water we use returns to the community as clean as or cleaner than we found it.
The Nike Water Program started with a handful of apparel dyeing and finishing facilities. The program has since grown to include more than 400 suppliers. The program is also expanding to include NIKE, Inc. affiliates, Nike footwear and Nike equipment facilities. Along the way, we have upgraded our reporting tools to simplify the process for ourselves and our suppliers, and to provide more detailed insight into opportunities for improvement. The Water Program now collects more specific production and water use data, and we are beginning to develop metrics to critically evaluate water use and improve water management. As we continue to improve our tools, we plan to share them and encourage their use by retail brands across apparel, footwear and other industries that utilize textile dyeing and finishing.
Apparel
Textile production requires water during many stages, including fiber production, textile processing and consumer use. Dyeing and finishing facilities alone can use 12 to 24 gallons of water per pound of textile produced.
Most textile mills produce fabrics for several brands, so the total water use reported to our program cannot be attributed solely to the manufacturing of Nike-branded products. But as an industry leader, even acting alone, we can improve the quality of the total wastewater discharge volume, increase overall water efficiency, and reduce the social and environmental impacts of water use throughout the supply chain. In addition, we regularly collaborate with other global brands and retailers, participating in the development of wastewater quality guidelines, evaluating process efficiency, and sharing our findings to inspire water-related initiatives across the apparel and footwear industry.
In our FY05/06 report, we shared some details about water quality compliance among facilities that supply contract apparel factories. We remain one of the few companies in our industry to hold suppliers to high standards for wastewater quality.
All new Nike apparel suppliers enroll in the Water Program during our new source approval process. Existing suppliers and their subcontractors are participating in the program in greater numbers each year. The program began with 55 facilities in FY01 and has grown to include 403 facilities in FY09. That's nearly two-thirds of the manufacturing facilities in Nike's apparel system. It includes the most water-intensive facilities such as textile mills, dyeing and finishing facilities, and vertically integrated factories
Nike Water Program guidelines for standard water quality indicators (pH, biochemical oxygen demand (BOD), chemical oxygen demand, total suspended solids and color) were developed with Business for Social Responsibility's Sustainable Water Group. As participation has increased, 80 percent or more of the participating suppliers have achieved full compliance for the last three years, while the rate of noncompliance has declined and remained low, at less than 1.5 percent for FY09.
Rather than move production elsewhere, our strategy is to work with suppliers to achieve continuous improvements. Partially compliant suppliers are encouraged to take steps to improve wastewater quality beyond what's required by local regulations to meet Nike's more stringent guidelines. Facilities found to be noncompliant submit a plan and timeline for improvement, which typically includes installation of new or improved on-site wastewater treatment facilities. New apparel suppliers are not approved without at least partial compliance.
In FY09, the Water Program introduced a Web-based reporting system to make enrollment and participation more convenient for suppliers. Virtually all participating facilities use the system to submit data online during annual reviews and to communicate improvements in water quality and efficiency throughout the year. The system collects production data, water use, discharge volume and wastewater quality lab test results for evaluation against Nike Water Program guidelines and locally regulated environmental standards.
Footwear
In contrast to water-intensive textile processing, most water use at contract footwear facilities is for domestic purposes. In our last report, we shared some details about the ongoing footwear wastewater compliance program.
For FY07 through FY09, more than 80 percent of footwear factories were fully compliant with all parameters for local wastewater discharge standards. Every Nike-contracted footwear factory is required to have an on-site wastewater treatment plant or to discharge wastewater to a central wastewater treatment facility.
On the horizon
In the years ahead, Nike's Water Program will continue to monitor the performance of apparel supplier facilities and increase participation of other textile producers supplying footwear and affiliates in order to make our company-wide water use analysis more complete. We will conduct targeted facility audits to evaluate the validity of supplier-reported data and develop a strategy to achieve measurable overall improvements in water efficiency. We will identify suppliers that face the greatest water-related risks and share best practices for water management. Finally, increasingly accurate benchmarking data will help us evaluate emerging wastewater treatment and recycling methods, and pursue innovation in water-efficient textile processing to further reduce our impact on water resources.
NIKE, Inc. is the world's largest seller of athletic footwear and apparel. It employs more than 33,000 people globally, including more than 5,500 at its worldwide headquarters in Beaverton, Oregon. It sells products in more than 180 countries around the globe and reported revenues of $19.2 billion for the fiscal year ending May 31, 2009.
(Source: Nikebiz.com)