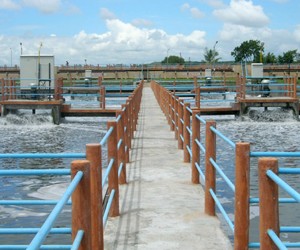 New Delhi : In one of the largest private equity deals of the year so far, Aditya Birla Capital Advisors (ABCAP) has said it has committed to invest Rs 40 crore in New Delhi-based water and wastewater treatment company SMS Paryavaran Ltd.
ABCAP is the private equity arm of the Aditya Birla Financial Services Group (ABFSG), a part of the Aditya Birla group and announced the first closing of the Aditya Birla Private Equity – Sunrise Fund, on August 30.
The investment in SMS Paryavaran will get ABCAP a minority equity stake in SMS Paryavaran, which is involved in construction of water transmission, treatment, storage & distribution and sewage systems mainly for municipalities and state governments.
The water treatment company is expected to invest the proceeds to fund its aggressive growth plans. The company, which undertakes complete turnkey projects in the field of water transmission, treatment, storage & distribution, sewerage system and industrial effluent collection, has bagged a slew of orders.
In a statement, Aditya Birla Capital Advisors said it has made its second fund at Rs 220 crore and also made its debut deal by investing Rs 40 crore in SMS Paryavaran.
"We believe SMS Paryavaran is a play on using applied technologies for integrated and standalone water treatment and wastewater treatment plants for municipal and industrial customers," the statement said.
The Sunrise Fund will be investing in companies in early cycles of growth and operating across sunrise industries, which are witnessing over 20 per cent compound annual growth rate (CAGR).
The Sunrise Fund is expected to focus mainly on four baskets – lifestyle (wellness, processed foods), life care (specialty care & devices, R&D), life skills (education delivery, learning solutions) and applied technologies (cleantech, mobile VAS). It will look at deal sizes, typically between Rs 25 crore and Rs 50 crore, for minority stakes.
Aditya Birla Group chief executive (financial services) Ajay Srinivasan said, "Private equity plays an important role in delivering the commitment of the Aditya Birla Financial Services Group to meet the needs of our target customers. The mobilisation of over Rs 220 crore for our second fund is another strong stride towards fulfilling our ambitious plans in private equity space. The first closing in Sunrise Fund takes our cumulative funds under management to Rs 1,100 crore".
SMS Paryavaran Director SN Modak told India Water Review the company would receive the funds from ABCAP in two tranches. The first tranche of Rs 25 crore is expected by the end of the month while the second tranche of Rs 15 crore will come to the company in the next six month.
The company had orders worth about Rs 400 crore in hand and is eyeing more projects across India. It has also submitted tenders for some projects in Maharashtra and Haryana, he added.
SMS Paryavaran has bagged contracts to set up five water treatment plants and the same number of wastewater treatment plants. "The company is in the process of setting up a 100 million litres per day (MLD) wastewater treatment plant in Thane, Maharashtra, a 30 MLD plant in Kota, Rajasthan and a 40 MLD and 30 MLD plant in Nasik", said Modak.
The company will also be setting up a 100 MLD water treatment plant in Gurgaon for Haryana Urban Development Authority (HUDA), a 70 MLD plant in Durgapur, West Bengal and another one in Jaisalmer in Rajasthan.
(Image source: SMS Paryavaran)