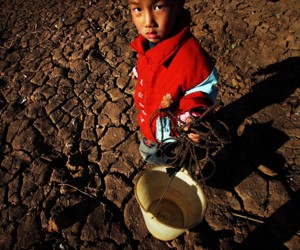 A little boy carries a small bucket in drought-hit Guizhou province in a file photo. The drought in the province has reportedly proved to be the worst in 60 years. (Image source: Foreignpolicy.com)
: Reeling under a severe drought in its southwest provinces, China has made plans to invest 200 billion yuan ($31 billion) in constructing water facilities in Guizhou province. The province has has been continuously hit by drought in recent years and is among the most affected.
China will invest the amount over the next 10 years to construct several reservoirs in the province. The drought in the province has reportedly proved to be the worst in 60 years and has affected more than 2 million people.
Hundreds of reservoirs and rivers have dried up and available drinking water supplies have been drastically reduced. Over 86 of the province's 88 cities and counties are understood to be plagued by the drought, prompting local water resource authorities to resort to drilling wells and pumping water out of the ground to ensure a steady drinking water supply.
As per the plans, the government would construct 114 large and medium-sized reservoirs during the next five years.
Deputy Chief of the provincial drought relief headquarters Zhao Yun was quoted as saying in local news reports that three large-scale and 111 medium-scale reservoirs are expected to break ground during the 12th Five-Year Plan (2011-2015) period.
The State Council has reportedly approved a 95 billion yuan investment in building 521 major water facilities from 2011 to 2020 in order to optimize Guizhou's allocation of water resources and ensuring drinking water for residents.
Construction work on 20 reservoirs had already started and another 32 were in the blueprint for the five years after that, said Zhao, adding that the medium-scale reservoirs would have a water storage capacity of more than 10 million cubic meters while large-scale reservoirs would have a capacity of more than 100 million.
The proposed water facilities are expected to guarantee a water-supply capacity of 16 billion cubic meters a year and help the province meet its water needs. Guizhou currently maintains 2,304 water facilities, of which 1,896 are reservoirs. None of these are considered large-scale so far and only 34 are of medium scale.
"The drought situation in counties with medium-scale reservoirs is better than those without," added Zhao.
The per capita water supply in the province is only 59 per cent of the country's average. With the new reservoirs, the authorities are expecting to make a provision to meet any emergency like the current drought as the annual average rainfall in the province is about 1,200 millimetres, much higher than the national average.