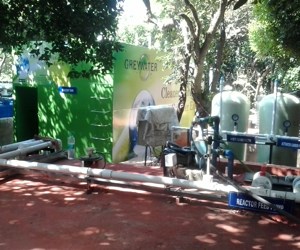 Mumbai : Mumbai-based specialized wastewater technology company Greywater has said it has commissioned a 75 KLD packaged GREWA-RS sewage treatment plant (STP) at Club Mahindra's Holiday resort at Mahabaleshwar.
The STP will treat and recycle 75000 litre of sewage water per day during peak loads at the resort. The resort is located in a highly environmentally regulated zone of Mahabaleshwar and the treated water is being used for landscaping and common area cleaning, said an official statement from the Nexus Venture Partners-funded company.
Said Greywater Head Strategy and Business Development Arun Dubey, "Mahindra Holiday & Resorts is one of our earliest customers and a repeat order from them is a direct testimonial for our superior technology and satisfactory services".
Mahabaleshwar sees seasonal variation in number tourist visiting the area, thus there is predictable variation in occupancy of the resort. The GREWA-RS STP comes with a unique feature to sense the reduction in load and accordingly take actions to operate at lower loads.
"Greywater has already installed a STP plant at our GIR facility and we are very satisfied with the plant and post order support and services provided by the Greywater team. Thus, Greywater was our preferred choice for STP in Mahabaleshwar", said Mahindra Holidays & Resorts Pvt Ltd Corporate Chief Engineer Basheer Ahmed.
Greywater's compact plug-n-play products are being used in hospitality, commercial, hospitals, SEZ, IT parks, residential and industrial sectors. The products significantly reduce space footprint by 30 per cent to 70 per cent and energy requirements by 40 per cent to 50 per cent compared to conventional plants.
The company's clients include Dahej SEZ, Mahindra Holidays, Oberoi Realty, Gemco Power, Unitech, Leighton Welspun.