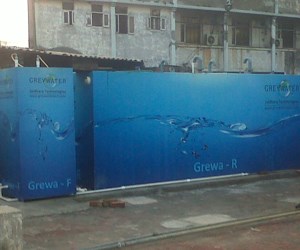 Mumbai : Mumbai-based specialized technology company Greywater has announced the launch of Grewa-R-S, a next generation, packaged and fully automatic sewage treatment plant (STP).
The company said in a statement that Grewa-R-S would provide a one-point solution to all the problems related to treatment and recycling of sewage and wastewater and would be available at the same price as that of conventional technology.
The new product is part of the company's efforts to ensure greater water sustainability by developing technology that will make water recycling and reuse a mainstream part of all residential and commercial facilities.
Greywater Executive Director Vikrum Kishore said in the statement, "We at Greywater understand that price is an important factor in success of a technology. Through our intensive R&D efforts we are now able to provide a revolutionary product Grewa-R-S at the same price as that of conventional technology".
Grewa-R-S is built on the same SBR technology platform as our future ready product Grewa-R and has most of its unique features such as capability to handle variable loads (10 per cent to 110 per cent of design capacity), low footprint, low operating and maintenance cost and fully automated and robust operations.
"Our R ranges of products are the only products in India to offer complete remote monitoring and control", Kishore added.