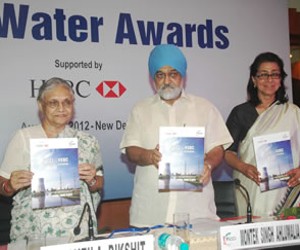 Delhi Chief Minister Sheila Dikshit, Planning Commission Deputy Chairman Montek Singh Ahluwalia & HSBC India Country Head Naina Lal Kidwai at the awards function.
New Delhi : Recognising the efforts Indian companies are making to conserve water resources, four leading companies - Essar Steel Ltd, ITC Bangalore, Sterlite Copper and Chemplast Sanmar -- have been conferred the FICCI Water Awards for industrial water efficiency.
The awards were also given to FMCG major Hindustan Unilever Limited, Tata Chemicals Limited and Bajaj Hindusthan Limited for their community initiatives in the water sector.
Delhi Chief Minister Sheila Dikshit and Planning Commission Deputy Chairman Montek Singh Ahluwalia also gave away the awards on August 7 to HSIL (formerly Hindusthan Sanitaryware & Industries Limited) for its aqua-free waterless urinal and to Tata Chemicals Limited for its Swach nanotech water purifier.
FICCI in association with banking behemoth HSBC has launched the annual water awards with the aim of recognising efforts and leadership in the area of water efficiency and conservation and developing a knowledge base on sustainable water management practices adopted by different stakeholders and disseminate best practices for encouraging their adoption.
"The increasing demand for water combined with increasing pollution load would put a stress on the depleting freshwater sources and would lead to conflict amongst other users. This conflict will be pronounced in areas with low per capita availability of freshwater such as arid and semi-arid regions of India", said Dikshit.
"Indian industry therefore needs to adopt water efficiency in their processes and take measures for increasing the freshwater availability through water harvesting, recharge and reuse of treated wastewater", she added.
Pointing out that Delhi face challenges in terms of water availability. Dikshit said, "We have tried out measures to enhance our wastewater treatment capacity through interceptor sewers and recharge of aquifers".
While the current demand for water matches availability, this situation is unlikely to hold for long. With economic growth, the demand for water will increase manifold and therefore, steps need to be initiated immediately to avoid an industrial water crunch.
The FICCI Water Awards recognise the efforts of the Indian industry in areas such as water efficiency, management and its conservation.
The entries for the Water Awards depict the wide range of initiatives Indian companies are taking to conserve water resources. Initiatives adopted range from rainwater harvesting; wastewater treatment; water audits and technology modification for reduction in freshwater consumption and reuse of wastewater.
Ahluwalia underlined the fact that judicious use of water can be assured by enforcing regulation and devising a pricing mechanism for the consumption of water by the industries. Both these need to be done in tandem to ensure optimum use of this scarce resource.
FICCI also launched the first report of 'FICCI-HSBC Knowledge Initiative' on the occasion. The initiative put forth the best practices on water conservation across various sectors. The first compilation in the 'Knowledge Initiative' series comprises a background paper on water use in thermal power plants and best practices from five major power companies which are part of the FICCI Power committee.
FICCI had launched the Water Mission in March 2011. The primary objective is to engage with the various sectoral committees across FICCI membership in developing a water agenda around each committee. The Mission has been successful in getting representation from the various committees; members from these committees are FICCI's Water Champions driving the work of the mission.
HSBC India Country Head and FICCI Senior Vice President Naina Lal Kidwai, who heads FICCI's Water Mission, said the mission initiated a 'Water Use in Indian Industry Survey' with FICCI membership.
It was undertaken to gauge the importance Indian companies' attach to water, its conservation and management. The survey results indicate a growing concern of the Indian industry in terms of inadequate water availability and poor water quality. Indian businesses see this as a major risk in their operations.