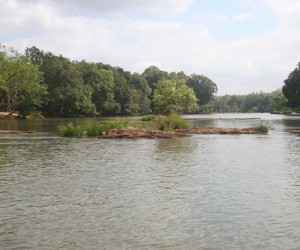 New Delhi : Rampant pollution of Indian rivers is turning most of them into big cess pools. Most of these rivers are no longer viable sources of water for cities around them.
The problem is largely due to the mismanagement of India's sewage system, a new report released by New Delhi-based advocacy and research group Center for Science and Environment (CSE) has said.
The report, "Excreta Matters: How urban India is soaking up water, polluting rivers and drowning in its own excreta" points out various rivers which have turned into drains due to mismanagement of sewage system as also due to the rising population in Indian cities.
Local new reports quoted the report's editor Souparno Banerjee as saying, Every city was the same old story, it had devastated its surface water, it was depleting its ground water and it had no plan for managing its water or wastewater".
"As a result of neglect and bad planning, many cities have turned their rivers into drains, and the citizens who live around them no longer remember that they were once pristine sources of water," Banerjee adds.
The report, in two volumes, took about three and a half years to research and write. It includes surveys of water and wastewater management of 71 cities in India.
A report in the The India Real Time quoted CSE Director General as saying, "The Budha Nullah in Ludhiana was once a darya, or river. It had freshwater which flowed clean. One generation changed its form and its name."
Narain says that Mumbai's Mithi river has been clogged by development so it no longer serves its traditional role of carrying flood waters from the city to the ocean.
"It was called a river. It flowed like a river. But today even an official environmental status report only knows this living river as a storm-water drain. One more city has lost its river in one generation", said Narain in the preface to the report.
The poor state of Indian rivers and the inefficiency of pollution control measures taken up by the government was highlighted by the Comptroller and Auditor General last month when in the first-ever water pollution audit in India, it said that 26 years of implementation of programmes to control pollution, water in major rivers remains critically polluted.
The audit said the situation was particularly alarming in 14 major and 55 minor and several hundreds rivers as only 10 per cent of wastewater generated from millions of litres of sewage, industrial and agricultural waste is being treated before dumping into water bodies.
The 'Performance Audit of Water Pollution in India' of the CAG, which was tabled in Parliament on December 16, said the government has given low priority to water pollution issues and the resources available for prevention of pollution, treatment of polluted water and ecological restoration of polluted water bodies are woefully inadequate.