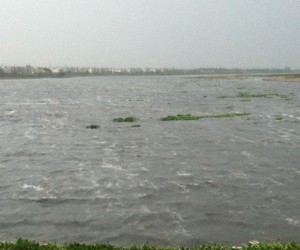 New Delhi : Israel's national water company Mekorot has bagged its first major water order in India. The Israeli company, considered by many to be one among the world's most technologically advanced national water entities, will build a water control system and smart metering system in Uttar Pradesh.
The project will be taken up by Mekorot Development & Enterprise, a wholly-owned subsidiary of Mekorot. The contract is understood to have been signed between the company and the State Government last week.
The project will include extensive cooperation with local water suppliers and help prevent wastage of the precious resource in the state, which has the largest percentage of urbanized population among the 28 states.
According to news reports, Mekorot officials are expected to visit Uttar Pradesh in coming weeks to analyze the needs of the communities and decide on the best ways to implement the project.
Mekorot was quoted as saying in a statement that that the deal was "a great opportunity to export Israeli technology and experience to India, which will raise the standard of living in the subcontinent. Mekorot is one of the leading water technology companies in the world, and we see expansion to the Indian market as an important strategic step for the company".
The contract is expected to be the first among the several others that the Israeli company is pursuing in India.
India's engagement with Israel, a world leader in water technologies and solutions, has continued for several years now and in recent months, several Israeli officials and companies have visited Indian states to promote their expertise and solutions in water sector.
Mekorot has been in talks with states like West Bengal, Uttarakhand, Maharashtra and Tamil Nadu governments to bid for more projects.