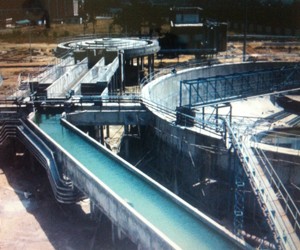 One of the several water treatment plants set up by IVRCL. (Source: www.ivrcl.com)
New Delhi : Subhash Chandra-promoted Essel Group has said it has no immediate plans to buy additional shares of IVRCL Ltd. The statement is expected to bring to an end speculation about a hostile takeover of the Hyderabad-based infrastructure player IVRCL, at least for now.
The Essel Group on April 16 said it has halting its bid to acquire additional equity stake in IVRCL through both the open offer or open market route. The promoters of the infrastructure company were not willing to sell their holding, it said.
The Group has already bought 12.27 per cent in IVRCL, having overtaken the 11.18 per cent shares held by the promoters, led by Sudhir Reddy.
But, in an indication that the battle for the over two-dacades old company is far from over, Essel Group said it would stay invested with its current stakeholding until a general shareholder consensus or other considerations persuade it to intervene in the management of IVRCL for increasing shareholders' value.
"As a significant shareholder, Essel will keenly watch IVRCL's management and its performance. More specifically, it will critically evaluate the announcement made by the management in the media about its intent of selling some prime assets of the company, which may cause further deterioration in the overall asset base of the company, in which case Essel will weigh all available options including initiating relevant proceedings and other ways of protecting its interest", Essel said in a statement.
Essel Group said its announcement was aimed at making its position clear and put to rest rumours that had been floating about the Group making an open offer or buy additional stake in IVRCL.
Essel Group raises stake in IVRCL; offers to buy out Reddy
Essel Group picks up 10% stake in IVRCL; Is a takeover imminent?
The Group said its interest in IVRCL stemmed from the fact that it became the joint venture partner of IVRCL in some projects after it acquired a majority stake in a Maharashtra-based infrastructure player and also because it had been approached a few months ago by an investment bank appointed by IVRCL promoters to sell their stake.
Essel Group's infrastructure flagship Essel Infraprojects Ltd (EIL) had recently acquired majority stake in a Maharashtra-based infrastructure company with a substantial order book. Through this acquisition, EIL had become a joint venture partner of IVRCL in some infrastructure projects.
However, talks had fallen through as the indicated asking price was "manifold" above the then prevailing market price and "impractical" .
"Since the disclosure, Essel has been in constant dialogue through the investment bank and is disappointed to now learn from the investment bank that IVRCL's promoters are neither interested in selling their stake nor willing to partner with Essel," the statement said.
IVRCL Chairman and Managing Director E Sudhir Reddy was quoted as saying in a news report in English daily The Times of India that the company had denied having appointed any investment banker to scout for buyers for the promoter stake.
But, the news report quoted Mumbai-based investment banking circle sources as saying that a few months ago, IVRCL promoters had informally asked an investment banker to send feelers to prospective buyers, including players like Essel and an engineering giant, for a stake sale.
With Essel Group publically stating its intention to go slow in acquiring an additional stake in IVRCL, the stock price of the listed company has taken a beating in the past couple of sessions as there had been heightened activity in the share among shareholders anticipating an open offer.