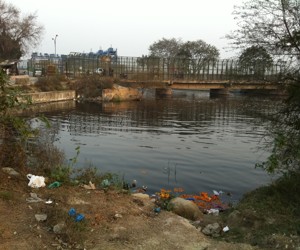 A India Water Review file photo of the river Yamuna near Delhi. The river is one of the dirtiest in the world.
New Delhi : The Supreme Court has asked the Central Government and the state governments of Haryana, Delhi and Uttar Pradesh to furnish information on expenditure incurred by them for making the water of Yamuna river clean.
A Bench headed by Chief Justice SH Kapadia on February 27 asked the Central Water Pollution Control Board to take samples of Yamuna from the states of Haryana, Delhi and Uttar Pradesh till Agra and submit a report on its cleanliness within four weeks.
The Yamuna, a major source of water for Delhi, is one of the most polluted rivers in the world.
According to reports, the water of Yamuna is of "reasonably good quality" through its length from Yamunotri in the Himalayas to Wazirabad in Delhi. But, after that, due to the heavy discharge of wastewater through 15 drains between Wazirabad barrage and Okhla barrage, the river gets severely polluted due to households and municipal waste, agricultural, commercial and industrial run-off.
The apex court also directed all the authorities related to control of Yamuna Water Pollution to gives details of the steps taken by them in this regard.
"This court is concerned with the pollution being caused to the Yamuna and complete deterioration in the quality of water in the said river, not only in Delhi, but also in the states of Haryana and Uttar Pradesh," the Bench said.
"How many committees have been appointed under the orders of this court, or otherwise, by the state governments directly with reference to this writ petition. Details with regard to the functioning of these committees, analysis of the reports, if any, submitted by the said committees and implementation of their reports, may also be furnished", it observed.
The bench said it wanted to pass orders, which would ensure that "no person, including corporations or other industries, discharge sewage, trade or other effluent directly into the river, without treatment, as per the provisions of the Environment Protection Act".
It court also wanted to know if the Comptroller and Auditor General of India (CAG) or the state accounts department audited such expenditure, and if so, the particulars of the reports and shortcomings pointed out by them.
The bench sought to know if no sewage treatment plants had been constructed and why it was not possible for the authorities to construct such plants even after the lapse of such a long period.
If sewage treatment plants could not be made operational, why were the authorities not adopting alternative systems of sewage or trade disposal rather than discharging discharge directly in the Yamuna, the bench asked.