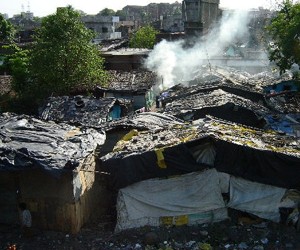 Slums at Saroj Nagar in Nagpur. In the city, 40% of the population reportedly stays in slums. The 24X7 water supply project will bring water to the city's slums too.(Image source: walkthroughindia.com
New Delhi : India's first 24X7 water supply project has been handed over to the private sector, with Orange City Water Limited (OCWL), a joint venture company floated by the Indian subsidiary of France's Veolia and Nagpur-based infrastructure company Vishwaraj Infrastructure, taking over the water supply in Nagpur.
In a tri-party agreement signed on November 17 between OCWL, Nagpur Municipal Corporation (NMC) and Nagpur Environmental Services Limited (NESL), a special purpose vehicle created by NMC the city's water supply was handed over to the JV company.
The agreement was signed by Nagpur Municipal Commissioner Sanjeev Jaiswal, NESL Executive Director S Hastak and OCWL Managing Director Anil Lakhani.
OCWL has been given a 25 years contract for the water supply project that is expected to show the way to other municipal entities across India while handing over the supply of water in private hands as they struggle to meet growing water demand, bring down non-revenue water and maintain leaky water infrastructure.
Several other cities in India are exploring the option of handing over all responsibilities related to water supply, billing, collection and operations and maintenance, while local municipal and civil agencies keep water pricing in their own hands.
OCWl is expected to start functioning by December on the project, which also marks the first 'full City' public private partnership (PPP) contract in India. OCWL will take charge of water supply from the water treatment plants to consumer's tap and will be responsible for billing and collection.
With the ambitious project, NMC proposes to provide safe and sustainable water to all its customers, including those living in slum areas. The water quality will meet WHO water quality standards and it will be available to people on a continuous basis and under constant pressure.
According to news reports, as part of the contract, OCWL will be responsible for managing the drinking water cycle of production, treatment, transport, storage and distribution to customers' taps. The surface water will be produced and treated in five plants with a capacity of 720 MLD per day and distributed through 2,500 km of pipeline to 300,000-400,000 water connections.
OCWL is also supposed to replace old and leaky pipeline infrastructure with a new one that will ensure that water is supplied with force and efficiency.
Nagpur Mayor Archana Dehankar told India Water Review that NMC has asked OCWL to first work on equitable distribution of water in the city, where several areas get water on alternate days.
"During the first phase, the company has been asked not to take up overhauling of old pipelines but ensure that those areas get water where currently the water supply is either on alternate days or at best for three-four hours per day. We have made provision for 120 MLD of excess water for the city", Dehankar said.