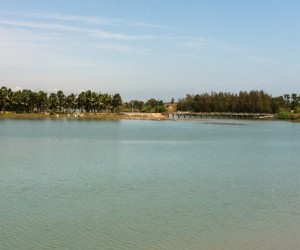 New Delhi : The Central Government is expected to introduce a system of providing incentives to the most water sector reform-friendly states. The incentives could be in the form of enhanced Central financial assistance for the various water projects taken up by the state government.
The move is expected to double up efforts being made by various states to usher in much needed reforms in the water sector. It may lead to better management, utilisation and regulation of water resources in the state.
States may be 'graded' in terms of the reforms they undertake.
An indication to this effect was given at the one-day conference of the Principal Secretaries and Secretaries of the Departments of Irrigation, Water Resources and Command Area Development of the States & Union Territories in New Delhi last week.
The conference deliberated on issues concerning development and management of water resources.
A consultation paper distributed at the conference stated: "The State adopting water sector reforms on fast track basis will be treated reform-friendly State and liberal funding criteria may be linked to water sector reforms by them".
The Central Government apprised states secretaries of the various Central Government schemes on development of water resources including the newly launched National Water Mission (NWM) and the capacity building scheme.
Under the NWM, states were requested to prepare state specific action plans and set up state water mission cells.
States were also requested to prepare action plans for mapping flood prone areas and flood plain zoning as an important tool for flood mitigation.
Union Water Resources Secretary Dhruv Vijay Singh expressed concern at the widening gap between irrigation potential created and the potential utilised.
Singh said the Central Government would finalise schemes on its own if the states did not provide their inputs regarding this.
A ministry official said the scheme for repair, renovation and restoration (RRR) of the water bodies was also highlighted with enhanced outlay and with viability gap funding during the 12th Plan period. The new scheme proposes to merge both the existing schemes of RRR of Water Bodies with domestic support and external assistance.
The Ministry of Water Resources is launching nationwide 'aquifer mapping' as a flagship programme under National Project on Aquifer Management during the 12th Plan.
This will help in achieving drinking water security, irrigation and sustainability in large parts of rural India and many parts of urban India as well.
During the conference, the States were asked to help in prioritizing areas for aquifer mapping and management and provide necessary data input for long term scientific planning of groundwater resources management.
As per an assessment done in 2009, 1565 blocks in the country are either in overexploited, critical, semi-critical or salinity affected, which necessitates judicial management of aquifers.