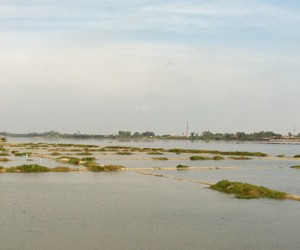 New Delhi : There is an urgent need to protect existing groundwater recharge systems, create more such systems by harvesting rainwater where it falls in the first place and bring in place a bottom-up regulatory system to help avoid water, food and energy insecurity.
Groundwater is India's current water lifeline and is likely to remain for many coming years. In the context of climate change, groundwater demand, use and recharge will all be affected, leading to further depletion of groundwater levels.
Urgent action is also required to reduce groundwater use by adopting appropriate cropping patterns, cropping methods, use pattern (through proper policies that allow only appropriate water use activities, depending on water availability), New Delhi-based South Asia Network on Dams, Rivers & People (SANDRP) has said in a report.
The report -- Water Sector Options for India in a Changing Climate -- launched on March 22 to coincide with the World Water Day states that groundwater conservation is particularly critical in climate change context as groundwater can be helpful in adapting to climate change.
SANDRP has stated that there is an urgent need to review prevailing water related laws in India from the perspective of environmental sustainability and social justice.
"Current laws are totally devoid of an ecological, integrated approach and do not reflect the basic principle that water is a common good and a precious natural resource. The reform process needs to be undertaken in a highly participatory, decentralized, and democratic way", the report states.
The fundamental problem plaguing this sector is lack of democratic governance.
"We urgently need to set up legal and institutional mechanisms to ensure bottom up, participatory, accountable governance for rivers, for pollution control, river action plans, for groundwater, for environment management, irrigation systems, lakes, rivers, wetlands, embankments, canals, pipelines, and other related water infrastructure. Such project/river specific committees should be statutory bodies with powers to make necessary mandatory orders with respect to the functioning of the projects", the report adds.
According to the report, large hydro projects and reservoirs are being sold by some as climate solutions.
However, this seems like misguided advocacy, used by the vested interest lobby. Unless and until it is creditably established that the potential benefits from existing large dams have been exhausted and that all local and underground storage options (including the option of increasing the capacity of the soil to hold moisture through increased carbon content in the soils through greater use of organic fertilisers) have been exhausted, there should be no question of any new project being considered.
Even operation of existing projects and size of the under construction project may be reviewed to make them more compatible in the climate change context. There is a huge untapped potential in all these options and this is available without any extra costs in terms of social or environmental impacts and much lower economic costs compared to new projects.
The report says climate change offers a unique opportunity to revisit our water resources in terms of understanding, planning and management. It also provides an opportunity to learn lessons from past approaches to development and management in a credible way.
The purpose for a revamped water policy could be that of equitable, sustainable, participatory, decentralised, democratic and transparent approach to water management; an approach based on sound knowledge and data to make decisions.
Further, this approach would need to include a protection strategy for the rivers, forests, wetlands, water bodies, biodiversity, critical ecological habitats and groundwater reserves, as well as demand side management measures, along with a definition of the clear linkages between these domains.
In Water scarce situations, all demands cannot be sacrosanct, and we also need to prioritise the just use of water, the report adds.