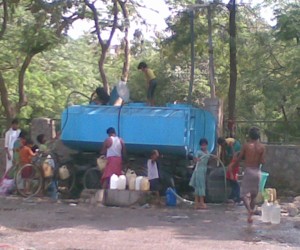 People in a south Delhi slum area collect water from a Delhi Jal Board (DJB) tanker. India Water Review file photo
New Delhi : Just days after Delhi Chief Minister Shiela Dikshit said her Government's biggest challenge was water scarcity, the Delhi Human Development Report 2013 has highlighted the plight of the poor in the matter of water supply.
While complementing the Delhi Government in ensuring that on most counts, there was improvement in the lives of the people of Delhi, the Report has said that in poor localities, including slums, the water supply is erratic and shortages abound. The supply to poor localities remains free of cost though.
The Report, which was released by Vice President M Hamid Ansari on August 31, said even though basic amenities like water, sanitation, electricity and transport have greatly improved during the past 10 years in the Capital, there were still disparities in access to these services.
Delhi-based Institute for Human Development (IHD) prepared the 2013 report for the Delhi Government, which earlier released the Report in 2006.
"Around 70 per cent of respondents in unauthorised colonies and 40 per cent in slum clusters rated the water supply in the Capital as below average", the report stated.
The Report mentioned that between 2001 and 2011, water availability in Delhi improved considerably. In 2011, about 81.3 per cent of Delhi's population received piped drinking water supplied by the DJB, while the residual population accessed water from handpumps, tube-wells, wells, rivers, canals, etc. The situation reflects an improvement since 2001, when 75.3 per cent of Delhi's residents received DJB supply.
The expansion in the coverage of drinking water supply took place despite a sharp increase in the number of households in Delhi from 2.55 million in 2001 to 3.34 million in 2011.
According to the Report, the poor and under-privileged in Delhi receive subsidised water, but it comes at a price, in terms of time and cost. Hours of waiting in queues at water points and fights around water tankers are a common site in the slums of Delhi.
This is reflected in the high proportion of residents in unauthorised colonies and JJ clusters rating water availability as 'very poor/poor', while respondents from the settlements such as posh localities and approved colonies seemed more satisfied.
Among the Delhi slums, which are solely dependent on government provisioning for water, just half the households have drinking water available within their premises and nearly 10 per cent have to go far away to fetch water.
But, Delhi Human Development Report 2013 stated that water availability too varied widely with geography.
For instance, 60 to 80 per cent of people in East Delhi and New Delhi rated their water supply as 'good', but only 20-40 per cent in North-West and South-West Delhi thought so.
The 2013 report, for which IHD carried out a survey of 8,000 households across the city, mentioned that 'equity' continues to be a concern as access to some of the services remains riddled with disparities.
"The disparities are visible when various income groups and types of settlements are taken into account. There are gender gaps in work participation and literacy".
Regarding sanitation, the Report said that around 90 per cent of the houses have toilet facility while 56 per cent of children in slum clusters defecated in the open. Overall only 50 per cent of slum-dwellers had access to private toilet facilities.
In fact, sanitation, and public toilets in particular, ranked as the city's worst public service. Almost all respondents, whether rich or and poor, agreed on this count.
Vice President Ansari said it was heartening that on most counts, the 2013 Report finds "an improvement in the lives of the citizens of Delhi since the last assessment was done in the 2006. Some of the challenges flagged in the 2006 Report have been addressed to an extent, with special mention made for mitigation of power shortages".
"In areas such as employment, education, health, housing or provision of basic services, access is disparate for different segments of the society in the capital. Despite the affluence, there are groups of people, across income brackets and types of settlements, who suffer from extreme vulnerability. Some are even deprived of many basic civic amenities", Ansari said, adding, "A levelling of living standards across different segments of the population would depend critically on improved access to basic amenities, especially water and sanitation services".