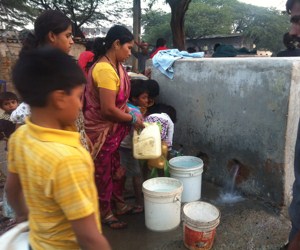 People in a slum near Delhi fill up water from a community supply line. (India Water Review file photo)
New Delhi : There is an urgent need to arrive at new indices to measure available water resources in India and initiate efforts for designing an appropriate industrial water use policy which could provide a framework for sustainable water use by this sector, a new report by UNICEF and FAO has said.
The existing calculations on India's per capita water availability do not include disparity in water allocation and access. And, this disparity is identified as a major determining factor for water access and use. At the same time, multiple uses of water and the traditional water allocation priorities and quantities also need to be revisited, the report 'Water in India: Situation and Prospects' launched in New Delhi on February 14, recommended.
The report warned that in the wake of the current rate of industrial expansion in the country, the water demand from the sector will also escalate in future, present experiences suggest increasing intersectoral conflicts in the country.
Current myopic approaches in attaining food security are also risking agricultural sustainability by encouraging increased use of water, the report warned. The water demand from agriculture is set to increase tremendously and will have to be met to ensure food security in a high consumption scenario.
The report said that severe water shortages have already led to a growing number of conflicts between users in agricultural, industrial sectors and domestic sectors. The situation is exacerbated due to the effects of climate change and future predictions include worsening of the situation due to a disturbed hydrological cycle and regional climatic variability, it warned.
Claiming that improved management of water resources will have a major impact on India's social and productive progress, the report warned that inadequate institutional reforms and ineffective implementation of existing provisions has affected the performance level for water service delivery.
According to the report, lack of water availability and poor management practices is manifesting in poor sanitation facilities, one of the biggest environmental and social challenges the country is facing currently.
"Given the multiple issues that the water resource sector faces, it is necessary to re-think the approach to planning and implementation of the water projects", the report said.
Since water is used for multiple purposes, involving potential users from the start of a project should be made essential. This would not only help resolve the conflicting demands, but also help maintain transparency. It is, therefore, necessary to have a comprehensive assessment of India's water sector, from an inter-disciplinary perspective.
The focus of the report is to evolve an environment where water is available for all in a sustainable manner — safe drinking water for basic needs, adequate water for agriculture, water for industry and for the ecosystem.
It pointed out that water quality issues in India have reached an alarming proportion. "Augmenting water supply to achieve millennium development goals (MDGs) will not suffice until its quality is ensured. There is no model in India that shows best ways to tackle the wastewater generated through the industrial and domestic sectors".
The economic implications of poor sanitation in urban India and its impact on water quality are profound. The agencies responsible for checking industrial pollution have failed, said the report.
At the same time, the concept of inter-state virtual water transfer also needs emphasis, as states with lower availability resources end up being the net exporters of virtual water to surplus states, the report added.