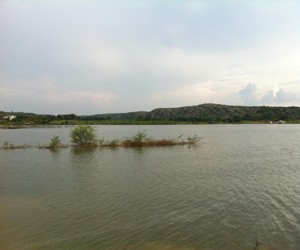 A drying lake in north India. (India Water Review file photo)
New Delhi : The first-ever water pollution audit in India carried out by the Comptroller and Auditor General has found several legislative, administrative and institutional lacunae in the way that the issue of water pollution is dealt with by Indian states and the Central government.
The audit said despite 26 years of implementation of programmes to control pollution, water in major rivers is critically polluted. The situation was particularly alarming in 14 major and 55 minor and several hundreds rivers as only 10 per cent of wastewater generated from millions of litres of sewage, industrial and agricultural waste is being treated before dumping into water bodies.
The 'Performance Audit of Water Pollution in India' of the CAG, which was tabled in Parliament on December 16, said the government has given low priority to water pollution issues and the resources available for prevention of pollution, treatment of polluted water and ecological restoration of polluted water bodies are woefully inadequate.
The report comes down hard on the Ministry of Environment and Forests (MoEF), saying that the ministry's ambitious plans to conserve lakes and rivers in the country have failed to deliver, with more than 80 per cent of the projects not being completed on time and others not being utilised despite being constructed.
The planning of the two centrally sponsored schemes of National Lake Conservation Plan (NLCP) and National River Conservation Plan (NRCP) was flawed, as the inclusion of rivers and lakes in the programmes was not based on comprehensive surveys to assess pollution levels across the country.
"The total amount of pollutants being discharged into all the rivers of India from sources like industries, mining, tanneries, distilleries etc, was also not worked out before initiation of NRCP/NLCP. Selection of rivers/lakes under NRCP/NLCP was not based on pollution level of the river/lake and NRCP/NLCP was not planned by MoEF to address the reduction of entire pollution of selected rivers and lakes," the report added.
Also, the ministry had not prepared a nation-wide inventory of rivers and lakes and it also failed to adopt a wide-ranging approach towards identifying pollution levels in different water bodies. The focus was on chemical indicators and their lack of attention to biological indicators.
On the legislative, policy and institutional framework front, the report said India has a Water (Prevention and Control of Pollution) Act, 1974 in place. The law, however, does not address the issue of restoration of the polluted water bodies. The Water Act does not define strict penalties to the environmental offenders.
Also, the concerns related to water pollution have been adequately addressed in the National Water Policy and National Environment Policy in India, both at the Central and the State level. However, the provisions for generation of resources for prevention of pollution, treatment of polluted water and ecological restoration of polluted water bodies are not adequate.
While the outputs of the actions of Central Pollution Control Board (CPCB) and State Pollution Control Boards (SPCBs) are correlated, there is no functional correlation between them at the input stage. This dichotomy of control causes a situation whereby there is no single agency to take charge of the issue of control of water pollution on a nation-wide basis, the report added.
According to the CAG, with the exception of Ganga in certain stretches, all the other rivers test-checked by it i.e., Ganga, Yamuna, Gomti, Godavari, Musi, Cauvery, Cooum, Mahananda, Khan, Kshipra, Vaigai, Chambal, Rani Chu, Mandovi, Sabarmati, Subarnarekha, Bhadra/Tungabhadra, Pennar, Pamba, Betwa, Krishna, Sutlej etc., continue to be plagued by high levels of organic pollution, low level of oxygen availability for aquatic organisms and bacteria, protozoa and viruses which have faecal-origin and which cause illnesses.
With respect to lakes across India, many of them have disappeared due to drying up of their catchment areas which have been reclaimed for uses like urbanisation. Most lakes in India are under threat from nutrient overloading, which is causing their eutrophication and their eventual choking up from the weeds proliferating in the nutrient-rich water.
The CAG report has recommended that Ministry of Environment and Forests (MoEF)/States, in their policies on water pollution, need to specifically take into account prevention and control of water pollution as well as ecological restoration of degraded water bodies.
The ministry also needs to establish enforceable water quality standards for lakes, rivers and groundwater that would help protect the health humans and ecosystems. Penalties need to be levied for violations of water quality standards.
At present, there are multiple agencies involved in river and lake conservation, right from planning to implementation and monitoring. There is a need to consolidate all these functions under an umbrella agency for better coordination and accountability.
MoEF/States also need to ensure that projects for source control of all kind of pollutants entering the lakes is included in projects for conservation and restoration of lakes, especially sewage and agriculture runoff which leads to nutrient over-loading of the lake, the report added.